​
Huron Hills Golf Course is a beautiful par 67, 18-hole, 5,071-yard golf course located along the Huron Parkway, adjacent to Gallup Park. Huron Hills is perfect for beginners, juniors, seniors and families, while still providing a challenge for the experienced golfer. Established in 1922,
​
this historic course is noted for dramatic elevation changes and views of the Huron River. The course is open from sunrise to sunset, from March through early December, and as weather permits through the winter months. Once you're ready to register, visit our registration system​. Click here to see our scorecard.
Stay up to date and sign up to receive newsletters!
Senior Morning League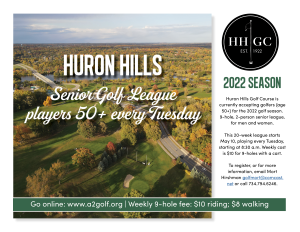 The senior morning league is still accepting new golfers. Tuesdays at 8:30 a.m.
"Thanks for putting on such a nice event. It was really fun and the course is in great shape.
Please pass on the comments regarding the playability and course conditions to the greenskeeper.  
– James
"Awesome course in great condition."
 Staff was inviting and very friendly. Can't wait to play here again. 
 Anders
3465 E. Huron River Drive
Ann Arbor, MI 48104
734.794.6246